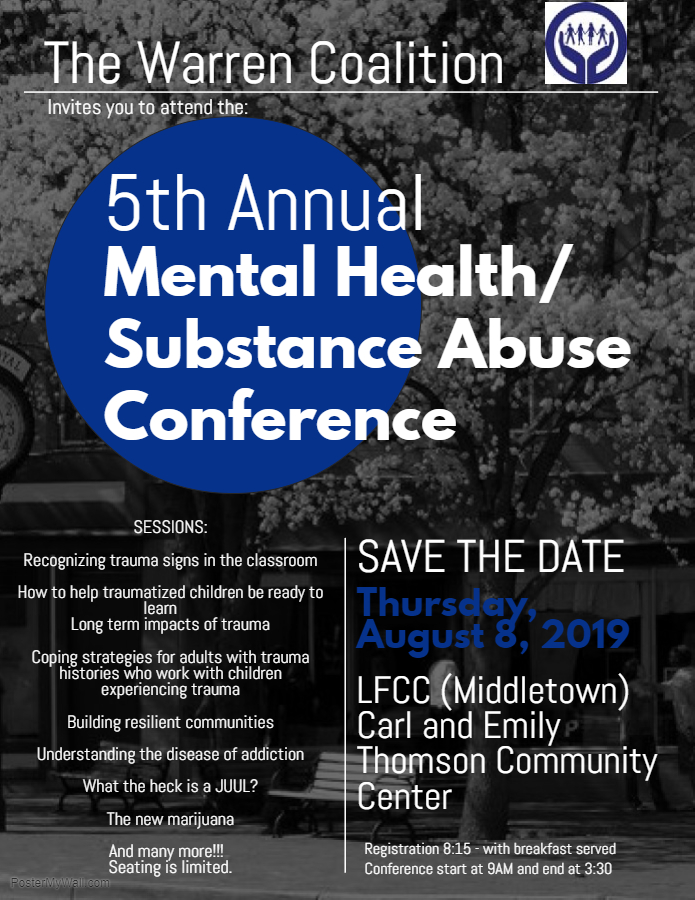 Date: Thursday, August 8, 2019
Time: 9 a.m., with a networking breakfast at 8:30 a.m. The conference ends at 3:30 p.m.
Location: Lord Fairfax Community College Middletown Campus Carl and Emily Thompson Conference Center
Description
Registration begins at 8:15 AM
Registration includes hot breakfast and lunch on site with food by Downtown Catering.
Seating is limited and on a first come first serve basis.
Featured Speakers:
Dr. Kevin McCauley is a Senior Fellow at The Meadows of Wickenburg, Arizona. Dr. McCauley earned his doctoral degree at Drexel University School of Medicine in Philadelphia, Pennsylvania. Dr. McCauley is a public lecturer and creator of media to further enhance public understanding of addiction and recovery. Dr. McCauley wrote and directed two films: "Memo to Self" about the concepts of recovery management, and "Pleasure Unwoven" about the neuroscience of addiction, which won the 2010 Michael Q. Ford Award for Journalism from the National Association of Addiction Treatment Providers. In addition, Dr. McCauley has given over 2000 presentations on topics related to Addiction Medicine and Recovery Management. He has served as a Flight Surgeon for the Marine Corps as well as the director of an inpatient program targeted at treating patients with co-morbid substance use/mental health disorders. Dr. McCauley is also the Co-Founder of the Institute for Addiction Study in Salt Lake City, Utah. This organization focuses on the development of innovative media productions on addiction and recovery topics for people seeking recovery and their families. It also provides National and International educational presentations on Addiction Medicine topics. Dr. McCauley has received the Patterson Visiting Lecturer 2016 award from the Aviation Medical Society of New Zealand and the Leonard K. Firestone Award 2011 from the ABC Recovery Center in California. Dr. McCauley will be presenting on understanding addiction, how to help support recovery, and trauma and addiction.
Michelle Horner, Psy.D. is a Postdoctoral Fellow and Staff Clinician at the Trauma Center and Walden Street School, programs of the Justice Resource Institute. She received her degree in Clinical Forensic Psychology from The Chicago School of Professional Psychology after completing an APA Accredited, on contingency, predoctoral internship at Oregon State Hospital, a state forensic psychiatric hospital. Dr. Horner has provided therapy and assessment for chronically traumatized children, adolescents, and adults in a variety of settings including forensic, community-based, school, and medical settings. She has received specialty trainings in trauma-informed models such as ARC, SMART, EMDR, TF-CBT, and Sensorimotor Psychotherapy. Dr. Horner has also studied internationally concerning socio-political and intergenerational transmission of trauma as well as cultural adaptations to trauma treatment. She has a special interest in chronic and complex trauma, intergenerational trauma, cultural and sociopolitical trauma, adult attachment trauma, dissociation, and the impact of gender and sexuality on identity development.
Katherine McCarthy, Ph.D., is a clinician, project coordinator, trainer, and researcher at the Trauma Center at Justice Resource Institute. She earned her doctoral degree from the California School of Professional Psychology (CSPP) at Alliant International University in San Francisco, CA after completing an APA-accredited pre-doctoral internship at Community Healthlink Youth and Family Services in Worcester, MA. Dr. McCarthy specializes in the assessment and treatment of complex trauma, PTSD, and anxiety disorders in children and adolescents. Her research focuses on evaluating evidence-based treatments and clinical treatment outcomes for children and families impacted by complex trauma. She currently works as Project Coordinator for the first effectiveness trial of the Attachment, Regulation and Competency (ARC) framework and as both Project Coordinator and Clinician for the Metropolitan Boston Complex Trauma Treatment Initiative, an NCTSI Category III grant funded by SAMHSA. She has worked in community mental health centers, schools, residential programs, and a juvenile justice center. She is trained in trauma-informed treatment models including ARC, SMART, EMDR, and TF-CBT.
Dr. Michelle Horner and Dr. Katherine McCarthy will present on vicarious traumatization and avoiding compassion fatigue, school based trauma interventions, and complex trauma's impact on development.
Additional presentations will include: Recognizing signs of Grief in Children and supporting healing; Juuling – The latest threat to our youth; and Recognizing and Coping with Anxiety.
To register, visit our EventBrite page.