Celebrate Kids Day is a daylong event on the last Sunday in September designed for kids of all ages! Activities, games, food and entertainment to celebrate and encourage the children in our community.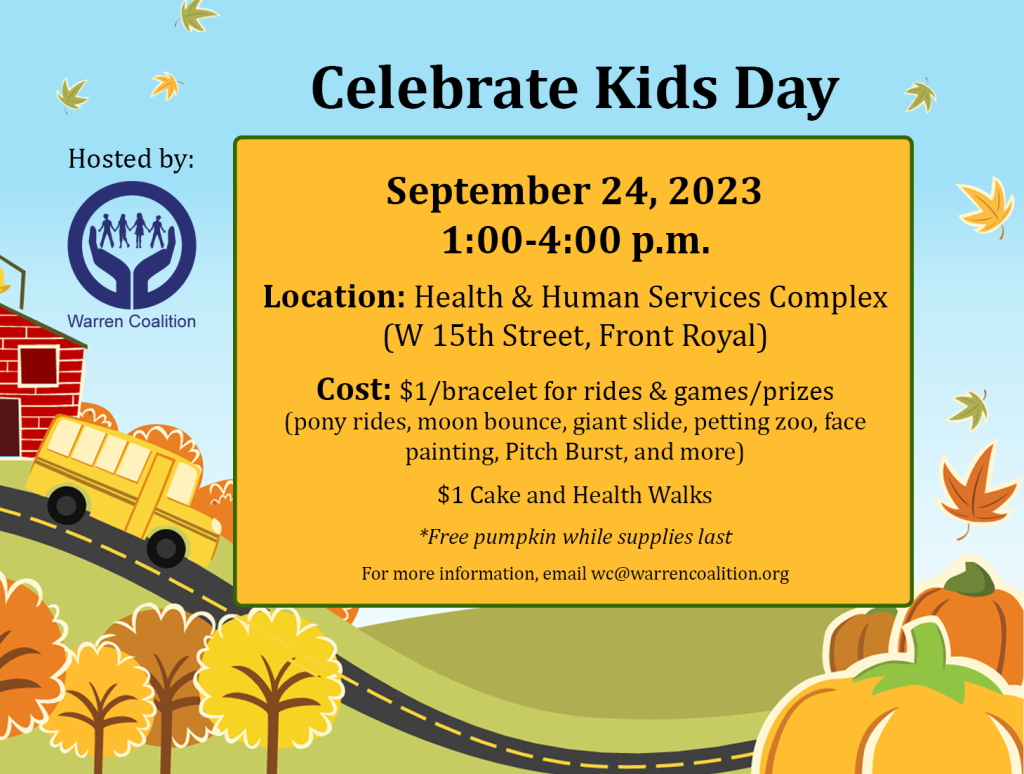 September 24, 2023
Kids of all ages are welcome to attend our 10th Annual Celebrate Kids Day! This year's event will be held at the Health & Human Services Complex on W 15th Street, in the gym, parking area, and side field. It will feature inflatable rides (giant slide, moon bounce, obstacle course), petting zoo, face painting, pumpkin painting, games, fun activities, pony rides, a DJ, the Pitch Burst, and much, much more!
Cost is $1 per child, with a maximum of $5 per family, and an additional $1 for the cake/health walk.
In the lead up to Celebrate Kids Day this year, we're have a fundraising challenge with local community members. Click below to access the fundraising page.
---
Thank you to our sponsors:
Warren County Parks & Recreation
Front Royal Dental Care
City National Bank
Kiwanis Club of Front Royal
Front Royal Elks Lodge #2382
Front Royal/Warren County Fraternal Order of Police Lodge #33
Giles B. Cook American Legion Post 53
Auto Center Cars
And thank you to Warren County Parks & Recreation for partnering with us on this event!
---
Click the links below to check out past events: