The Warren County Parks and Recreation Department acquires, develops, operates, and maintains a park and recreation system that improves the quality of life for all residents of Warren County through educational, park, recreational, cultural and leisure opportunities. Our department aims to provide the highest quality of service experience possible with individual, personalized attention to each participant.
The Warren County Parks and Recreation Department was created in the fall of 1986 to foster a Town of Front Royal and countywide approach to the delivery of recreation and leisure services. Mr. Brackenridge H. Bentley, then Town Manager, hired me as the first Director of the Front Royal Parks and Recreation Department, the position I hold to this day.
The department was launched through an innovative delivery of services with the help of the Town and the County of Warren. The partnership's goal was to provide a comprehensive array of recreation and leisure services for the entire community. In 2000, the department became a County of Warren Parks and Recreation operation. This new endeavor was designed to complement and enhance existing programs and traditions.
Our department is divided into three divisions: Administration, Programs, and Maintenance. The Administrative Division manages the operations of the department through the Raymond E. Santmyers Youth Center. Our staff works diligently to foster good relationships with citizens, businesses, and organizations. We also manage our popular shelter rentals and Youth Center reservations through this office. We strive to greet every citizen with a smile, and we are eager to hear thoughts, concerns, and new ideas.
At the Warren County Community Center, the Programs Division works to provide the many activities and sports programs available to residents of all ages. From youth basketball programs to mahjongg, there is always something fun going on at the Warren County Community Center. The Claude A. Stokes Community Swimming Pool is also part of our Programs Division, offering swimming lessons, lap swim and summer fun. The Maintenance Division assures the parks, facilities and buildings are well-kept, beautiful, and safe. Our maintenance employees stay current in the many certifications required to provide a safe environment for our patrons. Currently, our Maintenance Division is constructing a new, large shelter adjacent to the Warren County Splash Pad, highlighting the talents of our maintenance staff.
These three divisions work together to offer citizens and visitors wonderful local natural, athletic, and cultural experiences and activities.
The Department has made significant strides in recent years sharing services between the Warren County Public Schools Athletic Departments and other recreational organizations, thus improving maintenance at park and athletic facilities, and building positive working relationships with all the youth sports organizations.
Warren County Parks and Recreation has a lot to be proud of and we have been very busy! The Warren County Splash Pad was opened in 2019, thanks to the donations of local civic organizations including the Warren Coalition. Despite a COVID-19 pandemic closure, the Splash Pad has proven to be a local favorite, filled with happy families throughout the summer. We are proud to be able to offer such a dynamic and "cool" family activity.
Beautiful Rockland Park has also been developing. In 2018, fitness stations were added to the amenities and soon sunshades will be added to keep local exercisers out of the hot sun. The disc golf course is another popular attraction at Rockland Park. A yearly tournament is hosted there attracting many enthusiasts to our area. Finally, we are very excited for the new basketball courts coming in 2022. In 2008, I became a member of the Warren Coalition representing the Warren County Parks and Recreation Department to:
Assist the Warren Coalition to make the Warren County community a better place to live, work and play
Assist the Warren Coalition to anticipate the needs of the changing community and structure programs and facilities accordingly
Assist the Warren Coalition to enrich the lives of residents and build a healthier community
Assist the Warren Coalition to strengthen community image and sense of place
Assist the Warren Coalition to continue to expand the level of public information and involvement in parks and recreation
The Warren County Parks and Recreation Department will continue creating positive park and recreational experiences for our community. We will continue encouraging and fostering partnerships with community and youth agencies that will strengthen collaboration efforts in order to provide safe environments for the youth. We are thankful for the opportunity to serve the citizens of Warren County and we aim to be careful stewards of that trust.
Please visit our website at https://www.warrencountyva.net/government/county-departments/parks-and-recreation for more information on our parks, programs, facilities, and staff. You will also find a video tour there, highlighting our beautiful parks. Should you have any additional questions, please contact our office and we will be happy to provide you with any information you need.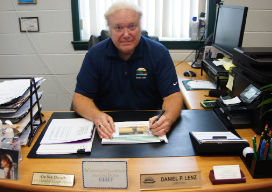 Daniel P. Lenz, Warren County Parks and Recreation Department Director
200 E. 8th Street Front Royal, VA 22630
540-635-7750
dlenz@warrencountyva.net