On July 27th, a small crowd of Warren Coalition staff and members, along with members of the local community, gathered at the Warren County Community Center to recognize the Coalition members who went above and beyond in their service to the Coalition and the Warren County community this past year. They also recognized this year's winner of the Larry M. Funk Award for Outstanding Service to Children in Warren County: Laura M. Nelson Haas.
The Annual Awards & Appreciation Luncheon started off with the recognition of Coalition members who had performed what is a basic yet the most important part of being a part of any organization: they showed up. Jessica Dandridge, Robbie Seal, and Susan Smith were recognized for attending 80% or more of committee and membership meetings, while Nick Croft was recognized for achieving perfect attendance throughout the year.
Throughout the year, Coalition members receive "stars" for supporting programs and events. At the luncheon, the person with the most stars is usually recognized as the Coalition Member of the Year, but this year, the race was tight—so much so that Robbie Seal was given an "Honorable Mention," while Nick Croft and Michelle Smeltzer tied for the number of stars they received, earning them both the "Member of the Year" honor.
The final award of the day given was the Larry M. Funk Award for Outstanding Service to Children in Warren County. Larry was a member of Warren Coalition for more than 20 years, serving in a number of positions to include Vice President and President during that time. The Warren County Sheriff Department employed Larry for over 28 years, and 27 of those were as the D.A.R.E. instructor and Community Policing representative. The award, first given in 2022, was established to honor his legacy.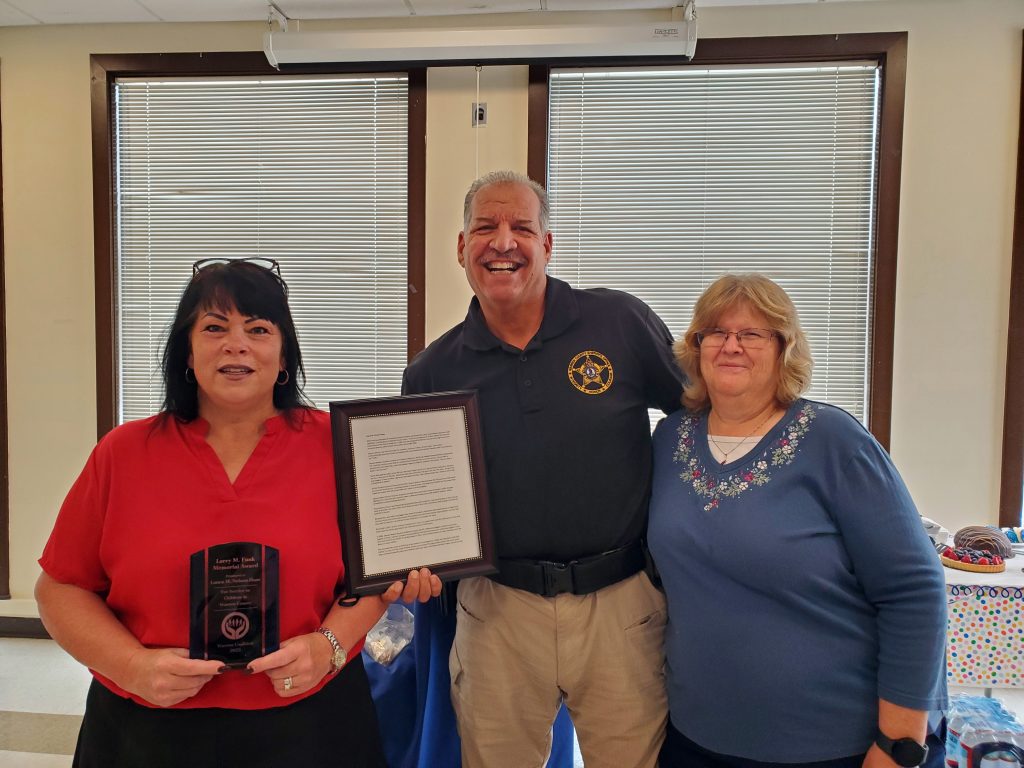 This year's recipient was Laura Nelson Haas. Laura was the school resource officer (SRO) at Warren County Junior High from 2000-2006. Norma Jean Shaw, who nominated Laura for this honor, wrote Laura was "well-loved" by the students and is still enthusiastically greeted by former students to this day. She described how Laura would always have a pocket full of dollars and would give a dollar to any student who was short on lunch money—and she didn't keep track of who owed her. Some students paid her back, others didn't.
Laura also worked with students—and sometimes their parents as well—to resolve conflicts without fighting.

"As her students came to know and trust her, Deputy Nelson often became the first person a child would turn to with family issues, including physical or sexual abuse. Steering those children to the proper help made her realize that she could help even more as an investigator," Shaw wrote.
Laura became a Warren County Sheriff's Office investigator and then completed the specialized training required to become a sex crimes investigator. Throughout her career, she has worked many cases, impacting dozens of children for the good.
Shaw concluded her nomination with the following: "Many of those helped by Laura are children who have been victimized, and their names cannot be told. Suffice it to say they are living better lives today because of her commitment and dedication to helping each of them. And that is thanks enough for Laura."
Laura received a $500 award as well as a crystal trophy to commemorate her award.
"Larry was a really fantastic human being," she said. "This is really special. Thank you so very much."
Warren Coalition is a nonprofit agency established in 1994 to help fill the gaps in health care and substance abuse awareness to the community. The Coalition began under the guidance of Warren Memorial Hospital as an outreach project, but it has since grown and was incorporated in 2001. The office is currently located in the Warren County Community Center. Their mission is to make Warren County a safe, healthy, and drug free community through many programs and in collaboration with 15+ member agencies.
###